VEi began as Valley Engineering Inc. of Fargo, North Dakota in 1998 as a company that focused on providing engineering solutions for the sugar industry. Our capabilities from the beginning allowed us to develop and nurture a long-term relationship with American Crystal Sugar, the largest sugar beet processing company in the country.
Today, with multiple offices across the United States, our core services include industrial project management, detailed engineering, procurement management, construction management, and commissioning and start-up services. We are proud to still have a strong relationship with American Crystal Sugar, but we have also diversified into other industries: power, chemical, petrochemical, and food processing.
Our size and internal processes make us nimble and responsive to our customers in ways that many other firms can't match. We turn bids and projects quickly, which allows our customers to move in the market quickly. Our diverse, experienced engineering staff of former plant managers, engineering managers, maintenance engineers, factory engineers, and other specialists is dedicated to project success and customer satisfaction.
Engineering for On-Time, On-Budget Projects that Work to Make Your Life Easier
As a project manager or stakeholder, we know you have goals: to develop an accurate scope, budget, and schedule for your project and execute that project within the scope, budget, and schedule. Our streamlined Front-End Engineering Design process allows us to do that for you, helping you meet your goals by completing projects on budget, on time, and safely.
We will work closely with your project team, operations team, vendors, and contractors, documenting details and communications along the way. The detailed deliverables and documentation our teams produce make it easier for your construction contractor to manage the project during the construction phase. This, in turn, leads to more precise bids, fewer change orders, and a better project overall, making your life easier as well.
State Registrations
VEi is licensed to complete engineering work in 28 states, and expanding.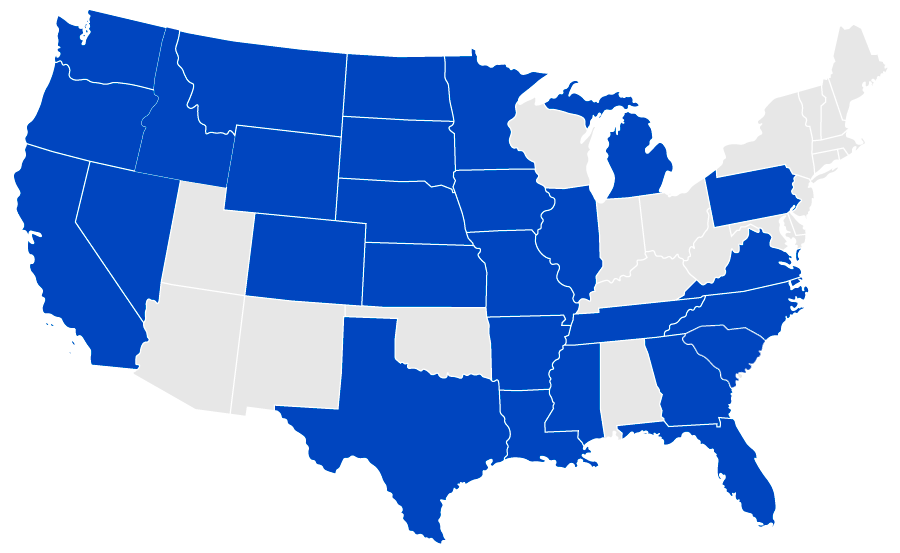 Arkansas
California
Colorado
Florida
Georgia
Idaho
Illinois
Iowa
Kansas
Louisiana
Michigan
Minnesota
Mississippi
Missouri
Montana
Nebraska
Nevada
North Carolina
North Dakota
Oregon
Pennsylvania


South Carolina
South Dakota
Tennessee
Texas
Virginia
Washington
Wyoming
Tell us a little about your project needs and we'll get back to you ASAP. 
We respect your privacy and do not tolerate spam and will never sell, rent, lease or give away your information (name, address, email, etc.) to any third party.